Send Inquiry
Wire Rope Hoist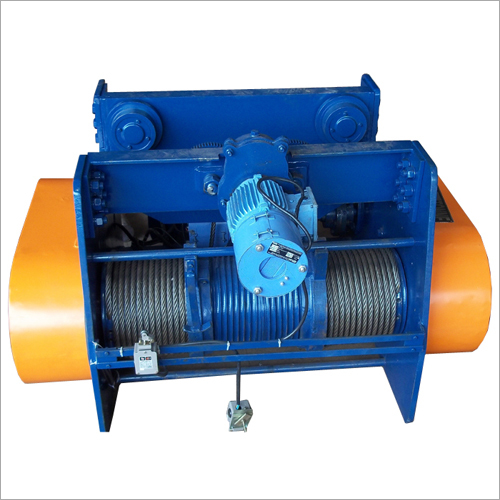 Wire Rope Hoist
Product Code : 03
Brand Name : BALAJI ENGINEERING CO.
Price And Quantity
Minimum Order Quantity
1 Unit
Price Range
56000.00 - 120000.00 INR/Unit
The offered Electric Wire Rope Hoist is used for lifting or lowering. It utilizes a drum wrapped with rope. It is an electrically operated device and is widely known for its ability to lift heavy loads. Wire rope works as a lifting medium. This rope hoist is designed and developed in our state of the art production division making the best use of pioneering tools and machinery, and therefore the offered Electric Wire Rope Hoist guarantees long service and unmatched performance. Moreover, our patrons can approach us to purchase this quality-centric equipment at the market leading price.
| | | | | | | | | | | | | | | | |
| --- | --- | --- | --- | --- | --- | --- | --- | --- | --- | --- | --- | --- | --- | --- | --- |
| Capacity | Tonnes | 0.5 | 1.0 | 1.0 | 2.0 | 2.0 | 3.0 | 3.0 | 5.0 | 7.5 | 1.0 | 12.5 | 15.0 | 20.0 | 25.0 |
| (Safe working Lode) | | | | | | | | | | | | | | | |
| High of lift | Mtr. | 3.0 | 6.0 | 6.0 | 6.0 | 6.0 | 6.0 | 6.0 | 6.0 | 6.0 | 6.0 | 8 | 8 | 8 | 8 |
| Hoisting speed | M/min | 4.5 | 4.0 | 4.0 | 3.5 | 3.3 | 3.3 | 3.5 | 3.3 | 3.3 | 2.7 | 2.7 | 2.0 | 1.8 | 1.8 |
| Cross Travel speed | M/min | | 15 | 15 | 15 | 15 | 12.0 | 12.0 | 12.0 | 12 | 12 | 12 | 12 | 12 | 12 |
| Hoisting Motor | HP | 0.5 | 1.25 | 1.25 | 3.0 | 3.0 | 5.0 | 5.0 | 7.5 | 10.0 | 12.5 | 12.5 | 15.0 | 20.0 | 25.0 |
| RPM | RPM | 14.14 | 1440 | 1440 | 1440 | 1440 | 1440 | 1440 | 1440 | 1440 | 1440 | 930 | 960 | 960 | 960 |
| Cross travel Motor | HP | | 0.250 | 0.250 | 0.5 | 0.5 | 0.5 | 0.5 | 0.5 | 1.5 | 1.5 | 2.0 | 2.0 | 2.0+2.0 | 2.0+2.0 |
| RPM | RPM | | 1330 | 1330 | 1330 | 1330 | 960 | 960 | 960 | 960 | 960 | 960 | 960 | 960 | 960 |
| Number of Falis | | 2 | 2 | 4 | 2 | 4 | 2 | 4 | 4 | 4+5 | 4+6 | 4+6 | 6+8 | 6+8 | 6+8 |
| Wire rope dia | mm | 0.60 | 8.0 | 6.0 | 10. | 8.0 | 12.0 | 10.0 | 12.0 | 14.0 | 16+14 | 16.0 | 18+16 | 18+16 | 20+18 |
| Toist load | Tonnes | | | | | | | | | | | | | | |
| Weight (approx) | kgs | 0.62 | 1.25 | 1.25 | 2.50 | 2.50 | 3.75 | 3.75 | 6.25 | 9.37 | 12.50 | 15.62 | 18.75 | 25.00 | 31.25 |
Dimensions Weight and performance Data
| | | | | | | | | | | | | |
| --- | --- | --- | --- | --- | --- | --- | --- | --- | --- | --- | --- | --- |
| A | mm | 700 | 700 | 900 | 900 | 1250 | 1250 | 1250 | 1800 | | | |
| B | mm | 180 | 180 | 220 | 220 | 270 | 270 | 270 | 320 | 320 | 320 | 320 |
| C | mm | 580 | 580 | 700 | 700 | 800 | 800 | 800 | 740 | 740 | 320 | 740 |
| D | mm | 460 | 460 | 420 | 420 | 550 | 550 | 550 | 680 | 380 | 740 | 680 |
| E | mm | 270 | 270 | 360 | 360 | 430 | 430 | 430 | 450 | 450 | 680 | 450 |
| F | mm | 140 | 140 | 160 | 160 | 200 | 200 | 200 | 270 | 270 | 270 | 270 |
| G | mm | 100 | 100 | 160 | 160 | 200 | 200 | 200 | 270 | 270 | 270 | 270 |
| H | mm | 680 | 880 | 930 | 1030 | 1140 | 1140 | 1140 | 1510 | | | |
| I | mm | 440 | 640 | 610 | 710 | 740 | 740 | 740 | 970 | | | |
| J | mm | 420 | 420 | 640 | 640 | 680 | 680 | 680 | 930 | 930 | 930 | 930 |
| K | mm | 620 | 620 | 780 | 780 | 690 | 990 | 990 | 1400 | 1400 | 1400 | 1400 |
Trade Information
Payment Terms
Others, Letter of Credit (L/C), Cheque, Cash in Advance (CID), Cash Advance (CA), Cash on Delivery (COD), Cash Against Delivery (CAD)
Supply Ability
25 Unit Per Month
Delivery Time
1 Months
Sample Policy
Contact us for information regarding our sample policy
Main Export Market(s)
Asia
Main Domestic Market
All India